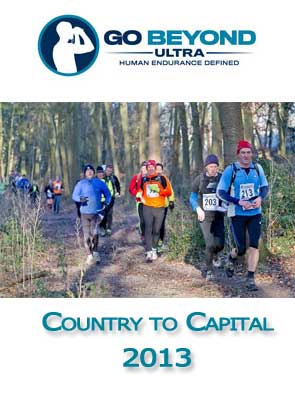 Runners at one of the traditional opening races in the 2013 UK ultra race calendar were rewarded with idyllic views across the Chilterns as almost 300 runners started the journey to London, the Country to Capital 2013. The race started under light drizzle but this was quickly replaced by a clear crisp winter's morning and some spectacular countryside trails.
Ian Symington arrived at the 8 mile mark alone having opened up a 5 minute lead across the Chiltern Hills. Donald Campbell, Paul Adams and Andrew Fargus arriving together some 5 minutes later. The leading 4 runners continued to stretch away from the field over the next few miles as the muddy conditions under foot slowed everyone, and by halfway Ian's lead was hovering around 10 minutes.
As the terrain changed, with the race taking to the firmer footing of the Grand Union Canal, Donald Campbell started to make his move, recording the fastest time to the third checkpoint and starting to close the gap to our early leader. Danny Kendall was also making serious inroads into the leading four.
Donald Campbell took the lead within the last couple of miles finishing just 24 seconds ahead in 5:26:56, well outside the course record but a respectable time given the conditions. Paul Adams held on to take the final podium place, a position he had occupied since the start of the day. David Ross finished in 5:59:58 as the only veteran inside 6 hours. With Derek Ivens first Vet V50 and Harry Hunter retaining his V60 title in 7:57:43.
Despite the conditions the ladies race proved to be a fast affair with Zoe Salt taking 16 minutes from the previous course record. Leading from start to finish her time of 6:08:01 was good enough for a top 10 finish overall in addition to being the first lady home. Zoe was followed home by Isabel Knox in second and FV50 winner Jane Laws belieing her years to come home third and first veteran lady.
Behind the racing snakes a record number of 256 runners completed the challenging 45 mile course. The vast majority enjoying their time out in Buckinghamshire. Particular praise was voiced for the enthusiastic marshals and the fruit cake on offer at all Gu Aid stations.
| | | |
| --- | --- | --- |
| Place | Runner | Time |
| Men | | |
| 1 | Donald Campbell | 5:26:56 |
| 2 | Ian Symington | 5:27:20 |
| 3 | Paul Adams | 5:33:48 |
| | | |
| Women | | |
| 1 | Zoe Salt | 6:08:01 |
| 2 | Isobel Knox | 6:25:39 |
| 3 | Jane Laws | 6:29:28 |
| | | |
Full results are available on the Go Beyond Ultra website.
Runner reports: