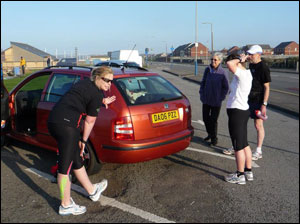 Welsh Physiotherapist Arry Beresford-Webb began running 1027 miles around Wales on March 24th starting in Cardiff Bay. Raising money for Velindre Cancer Centre's Stepping Stones Appeal (http://www.velindrefundraising.com/steppingstones) and The Gozo CCU Foundation Respirator Fund (www.gozoccufoundation.com) .
Probably the longest running event ever attempted in Wales, the Dragon Run 1027 was originally planned with Arry and her running partner Guy Hicks who had to pull out for medical reasons and who decided to focus his energy on the logistics of the project.
Arry's training program was intense as she also worked up to 60 hours a week and running 80+ miles a week meant little time for anything else apart from eating and sleeping. Taking advice from several ultrarunners and having contact with the Ultramarathon Man himself, Dean Karnazes, Arry has been preparing herself to run a marathon a day for 39 days and is currently 436 miles into the journey and approaching Barmouth.
Having the support of Welsh Rugby legend Jonathan Davies and Martyn Williams, both involved in Velindre fundraising has been a help in raising the profile of the event and local newspapers and Radio Wales have helped promote the challenge across the Principality and to raise £25,000 for the charities.
The project is timed to finish at the opening of the Wales Coast Path in Cardiff on 5th of May after completing the North to South Wales Offas Dyke path.
If you would like to run with Arry or donate or just follow her unique challenge checkout the links below.
Resources:
Follow Arry on Twitter: @dragonrun1027
Blog: Dragonrun1027.tumblr.com
Website: Dragonrun1027.wordpress.com
Facebook & Photos: www.facebook.com/Dragonrun1027
Donate at JustGiving: www.justgiving.com/dragonrun1027
---