Pre-race
Having successfully completed my challenge to run a 100 official marathons to coincide with the RAF centenary in April 2018, I needed a new challenge. In 2018 GB Ultras changed their race across Britain from the Trans Pennine trail in England to the Southern Upland Way (SUW) in Scotland. As a resident in Scotland, I saw this as a perfect challenge.The 2018 race was upon me before I knew it. 135 people were on the start line, 63 would go on to complete the race, I was one of them. Crossing the finish line in just over 99 hours, I was the last person to finish the race, narrowly coming under the 100 hour cut-off time. The race pushed me physically and mentally to my limits. I was broken, I was naive, I had underestimated the challenge of running over 216 miles across the rugged Scottish terrain. Poor foot admin led to the beginnings of trench foot and several blisters on each foot. It was painful to run let alone walk. It was an experience I will never forget. I always remember as I neared the finish line, I was asked two questions, "How did you find the race?" and "Would you do the race again?" My answer was, "I absolutely hated it, who the f*** would want to hike across the SUW. Absolutely no chance in hell I would do this race again, I'm broken." Four weeks post-race, I find myself parting with my hard earned cash as a deposit for my entry in the Race across Scotland 2019. Why? I'm driven by challenging myself, being out of my comfort zone, seeing how far I can push myself physically and mentally. Two hours after the 2018 race, I'm telling myself, "you finished but you know you can do better."My goals for the race were to get a gold buckle and potentially finish on the podium. I felt a lot better prepared for the race this year. I had been running strong in all fields of running. I ran 40 – 80 miles a week on average, occasionally doing 50 mile training runs. In June this year I became the first person to run the North East 250 a driving route through the Cairngorms, malt whisky country and the Moray coast line. In total I covered 260 miles, 15000ft elevation gain in 6 days.I really felt in the best condition I ever had been.
Getting to the race
Participants were responsible for sorting out how they got to the start of the race. I'm based in North East Scotland and I was running unsupported, so I had to make my own way. Fortunately I had family friends in Glasgow, I drove down to them the night before the race and was able to leave my car with them. On race day I got a train from Glasgow Central to Stranraer, I managed to get a cheap ticket for £8.90. There were several other runners on the same train, so it was great to chat with them.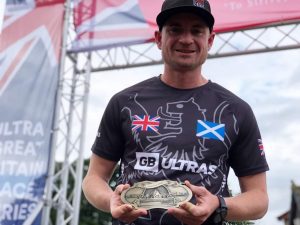 Upon arriving in Stranraer it is a 10 minute walk to the bus stop to get bus 367 to Portpatrick which was about £2.10. The bus takes about 20 minutes and stops at the village post office a 5 minute walk to the village hall where registration is. Accommodation, I had booked early on with booking.com with a free cancellation option. A week before the race another runner had a spare bed in their room up for grabs. So I went halves with them and canceled my room. It worked out perfect, as the hotel I was staying in was just above the village hall and the harbour where the start is. Registration was really easy and swift. I got my number followed by a mandatory kit check then a pre-race photo. I handed in my drop bags for the first 3 drop bag checkpoints, I kept hold of my final bag for Cocksburnspath. All I had to do was pick up my tracker, hand in my last bag in the morning, registration was complete.A group of us had pre-arranged a meal. It was also my birthday. So I celebrated by stacking up the calories and opting for a starter, burger and chips, side of veg, onion rings and a pint of local ale. I certainly got my carbs and protein in. Well and truly stuffed, I made way back to the hotel for an early night. Before up though, I went to the hotel bar and got myself a birthday whisky.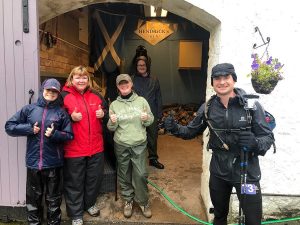 I did my final preparation of my kit before lights out at 2200 hours, alarm was set 0430 hours. I had an uneasy sleep, waking up regularly. I think I woke up around 0400 at the sound of clinking, it was the race team putting up the startline standing. For breakfast I had two pots of porridge, a protein smoothie and a cup of coffee. Then Rhys (my roommate) and I checked out at 0500 and headed down to registration. It was a little damp outside but overall it was a fairly calm morning. At registration I collected my race tracker and handed my final drop bag in. At 0540 hours Wayne the race director held a race brief. We then made our way to the start line for a 0600 hours start. The field was a lot smaller than last year's race, I think this year about 69 starters. This was it now, I was on the start. All the training I had done for the last 12 months was all for this moment.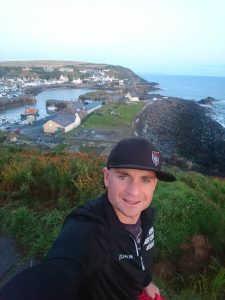 The race
I set the pace quite early along with another runner Mo. We ran together for about the first 40 miles before we split and then I pretty much ran on my own up to St John's the first drop bag point 67 miles into the race. About 50 miles in my Garmin watch froze on me which meant I had to reset the watch. By resting the watch, I lost all my data including the race gpx. Fortunately the route at this point I remembered quite well. It was also well marked with Southern Upland Way posts, so I was able to make my way to St John's with no issues apart from at 63 miles there were cows in the road and I got chased by one, I never crapped myself so much. I was feeling great by the time I got to St John's, I was 3 hours ahead of last year's time. Unfortunately I lost two hours at the CP, as there was no Wi-Fi, which meant I was unable to upload the race gpx back onto my watch. I had a race map along with compass but I wasn't confident trying to navigate and run in the dark. So I held on until some more runners headed out. I ended up teaming up with Rosie Bell and another runner for the night.The leg between St Johns and Sanqhuar was just over marathon distance and the terrain was very challenging. This part of the race broke a lot of people last year, me being nearly one of them. It was a tough night and at 17 miles into the leg we reached a bothy. It had just started pouring with rain, I decided to rest for an hour. Rosie and the other runner had 15 minutes before heading off. It was light again by the time I set off to Sanqhuar, there were 9 miles to go. About 3 miles down the road there was a farmhouse, which did bacon butties and brews. I took the opportunity to replenish before heading back off.Originally my plan was to get to Wenlochead (102 miles) within 24 hours, however I think I got there in 30 hours. I had started to slow down as I was experiencing pain and swelling at the bottom of my left leg above my ankle. Fortunately this checkpoint had Wi-Fi which enabled me to sort my watch out.This was a turning point in the race for me as I was starting to suffer with my injury, the route was about to get more challenging with double the elevation gain compared to the first half and tiredness in general. I got to the second drop bag, Beattock (123 miles) before dark. I teamed up with Rosie Bell as we made our way to the next checkpoint. This part of the leg had changed, there was now a new high trail route instead of the original low route.
The weather had taken a turn for the worst, the trackers had hit a black spot in the high area. Along with Rosie and I, two others runners had already done the high route when the RD decided for safety reasons to revert back to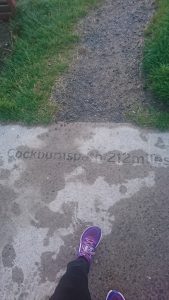 the low route. I wish I hadn't of done the high route, It really took its toll on me, my injury had got even more aggravated. I remember falling asleep walking the last few miles to the CP. On reaching the CP I had now completed 140 miles, 76 miles to go, the last third of the race.The last third of the race for me was really mentally testing; grit my teeth, head down, one foot in front of the other moment. The injury on my left leg had reduced my average pace to less than 3mph, most of the time I was tabbing with the short bursts of running. That was pretty much how the rest of the race went for me. I remember getting to Lauder (182 miles) at around 2230 hours. I was in 5th place overall at this point but from 2nd-4th weren't that far ahead of me. I had a quick turnaround at the CP before heading on my way to try and catch them. My hopes of catching 2nd-4th collapsed as I ended up in the wasteland as the path out to Lauder through a field was blocked by cows, I tried to skirt around them, I was off course, falling off a bank in to a small river. I had to cross the river to get back on to the path as well as scale some trees. I lost about 45 minutes, injured myself further and mentally I was damaged.However, I had come so far and time was still on my side. I could only walk now, it was very frustrating as the paths were ideal to run on.
It took me nearly 6 hours to cover 13 miles to the last CP at Watch Water Reservoir. Getting to this CP was a massive relief and to boost my morale the guys cooked me up a breakfast. It was heaven, how many races can you say you've a full cooked breakfast made for you. Appetite satisfied, I had a 45 minute sleep before the CP guys woke me up. As I left the last checkpoint, the view was amazing. Rolling hills in the distance with a red sky, it was so peaceful, it was a thing of beauty that brought a tear to my eye. Now there was only 21 miles to go until I would complete the race across Scotland for a second time. With about 10 miles to go I caught up with Rosie Bell. We had spent large sections of the race running together. So we decided that we would run the last 10 miles and cross the line together. They were 10 very slow miles, the miles slowly descended down. I remember getting on to the coastal path outside Cocksburnspath, a mile and half to go. It seemed like the longest mile and half ever, I was hurting bad now, struggling to walk. Was so close but yet seemed so far, with just under a mile to go, I was given an ice cold beer which I kept on me right to the finish. On crossing the line, the feeling was unreal. High jubilation, downing a can of beer but also I was in a lot of pain.Overall, I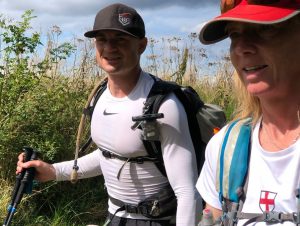 finished joint 4th with Rosie, who finished as the 1st female in just under 80 hours. I had achieved my goal, I got a gold buckle and beat my previous time by 20 hours. Unlike last year, my foot admin was key to my success. Regularly applying Vaseline and Sudocrem to my feet, prevented me from getting blisters. I used 7 pairs of socks all Gortex and 4 pairs of trainers during the race, this was also key to keeping my feet in good nick. I could not recommend this race enough. It will throw everything at you but if you give everything back, then you'll have an unforgettable experience.The race is extremely well organised, checkpoints well distributed with great facilities and well stocked. You can do the race supported, which I recommend if available to you.
Post-Race
I didn't really give myself time to recover, 10 days after finishing in the Race Across Scotland I competed in the another ultra, the Ring O fire, 135 miles around the coast of Anglesey. Since then, I've been nearly sidelined for 4 weeks and I have not been able to run. Despite achieving my goal of getting a gold buckle, I want to do the race again within the next two years. I believe if I could get a support team next time, I could smash my time of 79 hours and challenge for pole position. Even though the race pushes me physically and mentally to my limits, I'd rather be out there in the Scottish hills any day of the week than be in work. It's what I love about ultra-running, the freedom of being in the middle of nowhere, no communication with the outside world. It's just you and nature, peace of mind.UW