In the early hours of Tuesday morning April 27th, Paul Giblin and Graham Connolly set off in an attempt to set a new FKT on the 387km Cape Wrath Trail.
After 3 days, 23 hours and 50 minutes the pair set a new unofficial supported male record.
A true Scotsman, Paul Giblin is well acquainted with harsh climatic conditions so there was no holding him back when he decided to take on one of the most challenging long distance trails in the UK.
The Cape Wrath trail is a hiking route that runs through the Scottish Highlands and along the West Coast of Scotland. The previous record of 4 days 9 hours and 43 minutes, was set by Damian Hall and Beth Pascall when they completed the route self-supported in December 2018.
Together with good friend Graham Connolly, the duo got underway last Tuesday from the North to the South, in their project they gave the name; ¨4 days of Freedom¨, with only a few short sleep breaks and a terrain that included river crossings and extreme mountainous cliffs with no trails underfoot.
After a long time spent in lockdown, the pair were itching for an extreme challenge and thought this would be it. With minimal sleep and braving long, slow and trudging conditions with barely any marked trail, on top of the very changeable weather, the pair fought against everything that nature threw them.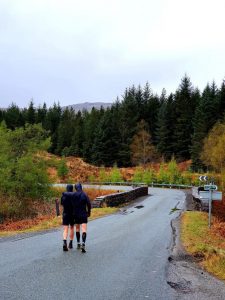 Despite the diffculty of the route, Paul was reported to have felt very strong throughout, which enabled them to push a steady pace ahead of record time. In doing so, they headed to the finish under the goal of 4 days, to set a new record!
Compressport spoke to Paul afterwards.
Why did you choose the Cape Wrath Trail?
It feels like we have been locked down forever. There's still a lot of uncertainty about travel and races – I wasn't even supposed to be here in Scotland. So there was something burning in both of us to escape and do something seriously challenging. The Cape Wrath Trail is the toughest route in the UK and would likely give us what we were looking for. We'd also both spent some time on it
together on a different project a few years back.
Explain to us the route
First things first – it's called a trail and that suggests it's some kind of marked route. There are no route markings and for most of it – there is no trail. So it's not at all like taking on a well-established and serviced route. There are even a couple of route options, but we took the one as close to the guidebook as we could.
If you followed the tracker you would have been forgiven for thinking we were incredibly slow. I've run 100 miles on trail in around 14 hours in the past – but the conditions underfoot are so tough. There are huge areas of bog. Long rocky sections. Grassy tussocks. Miles and miles of thick heather. Sharp stuff. Soft stuff. Steep stuff. River crossings. Ticks… the list goes on. The weather is hugely changeable too: at points being roasted by the sun, to freezing snow, hail and strong winds.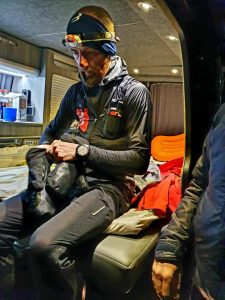 How did you feel throughout the 4 days?
After Day 1 it was tough. I think we both realised the enormity of the challenge then. When you have to work hard right from the start and then realise, you're not even a quarter of the way
through the route that for me is the toughest time. We generally ran for 20 – 28 hours before taking a sleep. We started with 25 mins on Day 2, and then continued that for the most-part. I think
after a really tough night section where we'd spent the night contouring a mountain in the snow, we slept for maybe 90 mins. On the last day the tiredness is real, and not something food and caffeine can fend off any longer.
Oh…and we twice slept on the trail for 10 mins – once at the edge of a cliff, too tired to care. We ate regularly. We must have eaten about 60 Veloforte bars between us – which we didn´t
tire of, as they feel less like an energy bar and more like a treat. In between the crew was feeding us whatever they could get us to eat. We had a lot of soup, wraps and expedition food. One of our friends brought us giant pizzas on the last night which was amazing.
How did you train to prepare for this?
I'm not sure you can train to prepare for this! Clearly we are both committed ultra runners so are always fit and relatively ready to go. Travel had been suspended in Scotland since Christmas so there weren't huge opportunities to move around and train on the terrain (although I could travel further afield as an athlete). I guess if I was coaching someone to take on such a route then they'd have to be prepared to spend some long back to back weekends on some very taxing terrain.
What about support during the course?
Friends of ours; Gavin and Bob followed us towards the South. At times they were the only thing keeping us going! Some of the sections are quite long though as it's all so remote, so it's not like you are seeing your crew every 90 mins or something. A lot of sections were taking us 10+ hours to complete, so they had to think ahead for us about ensuring we had the right kit to take us into the night etc.
What is next for you? Do you have something more planned in the coming months?
I'd like to get home to Chamonix at some point. It's been hard, living between a few places. I'm worried about being locked down again and also missing a vaccination if I'm in the wrong place at the wrong time. I really miss the freedom of travel. It's also been hard knowing what to do about races with so many being cancelled. I really invest in races, so it's hard just trying to motivate myself to do the first one that looks like it might be on.
Graham and his wife Claire are expecting another child any day now. I just hope Graham's feet recover before it arrives or he'll not be much help! Graham will be hoping to run the Spine race in January. That route was certainly great training for a long, tough, survival race.
What Compressport products were most important for you during the route?
I think we both wore the genius micro thin 3D Thermo Ultralight tops throughout. They were great. Also the 3D Thermo Racing Hoodies were used more than we ever thought. The conditions changed regularly, so being able to ventilate when needed but be confident enough that you'd be warm enough in sub zero temperatures was really important. Having lightweight but waterproof gear really helped. The waterproof pants are easy on and off – and stuffed into your pack taking up less space than a tennis ball. Smaller things like arm warmers became really useful too as you can regulate your temperature on the move and we both wore them for the last couple of days.