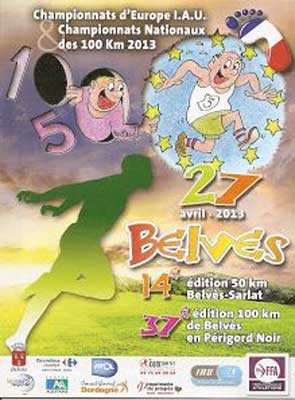 This weekend sees the IAU European 100 km Championships 2013 taking place in Belves, France April 27th. Ninety seven athletes from nineteen countries will start on a 100km loop from Belves through Sarlat in the Dordognes Valley.
Among the top names, Albericco Di Cecco (ITA) will be returning as will Kajsa Berg from Sweden.
The British Womens team to take part will be
British Women
Emma Gooderhame
Sue Harrison
Karen Rushton
Hélen Taranowski
There's no British Mens team and from Ireland there will be no Womens team

Irish Men
Dan Doherty
Keith Whyte
Race starts at 8am.
Race website: www.clubathletiquebelvesois.fr