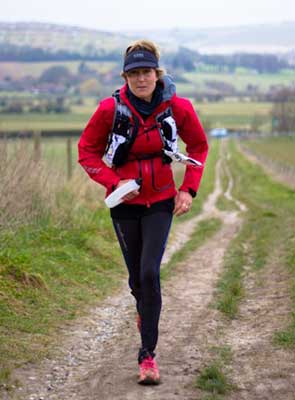 The South Downs Way 50 Mile Race saw its inaugural running on April 13th 2013 joining a developing series of trail races in southern England hosted by Centurion Running. Thé race, which includes the final 44 miles of the South Downs Way 100 mile race, begins in Worthing and finishes at the Eastbourne Sports Park Athletics Track.
With the SDW50 almost sold out, there were about 200 runners setting off from Hillbarn Recreation Ground in Worthing in fair conditions. However it wasnt to last and cold rain swept in for an extended period.
The race was won by Mark Perkins completing the distance in 6:55:37. Emily Canvin was the winner of the ladies race finishing in 8:23:30.
Below are a selection of race reports from runners including that of Mark Perkins and the race directors report.
Overall
1st
Mark Perkins
6:55:37
2nd
Michael Buchi
7:08:00
3rd
Reece Ingram
7:39:35
 3rd
Martin Rea
7:39:35
Female
1st
Emily Canvin
8:23:30
2nd
Susie Casebourne
8:48:52
3rd
Sarah Morwood
8:56:14
Race organisers SDW50 Report
South Downs Way 50 Results www.centurionrunning.com
Mark Perkins South Downs Way 50 Race Report
Simon Thornhill's 7 Things I learned at the 2013 South Downs Way 50:
So Mei Chan's DNF Marathon No.34 – South Downs Way 50 Mile Ultra
Simon Thompson South Downs Way 50