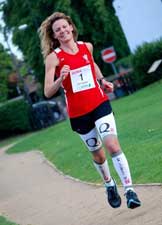 Jen Salter (36), has smashed the Guinness World Record for running the 345 mile length of Ireland. Her journey from Malin Head – Ireland's most northerly point – to Mizen Head – the south westerly tip – took 4 days, 23 hours and 3 minutes and finished at 04:03 on Friday 10th June.
Enduring torrential rain and covering up to three marathons a day, she ran an astonishing 80 miles on her final day over the mountains of south-west Ireland in 21 hours of non-stop running to break the five day barrier and the men's record by an astonishing 14 hours.
Jen says, 'I can't believe that the World Record is actually mine. The messages from people watching the attempt and the help and support of my crew really helped to keep me going. Giving up was never an option and the hours and hours of training have really paid dividends for me.'
'I hope that I can inspire other women to go out and take part in ultra-marathon running,' she adds.
Jen will be back in Ireland later this year organising the first M2M Ultra on the same route with 13 people running over 30 miles a day.
For more details or to take part visit www.ultrarace.co.uk/events.