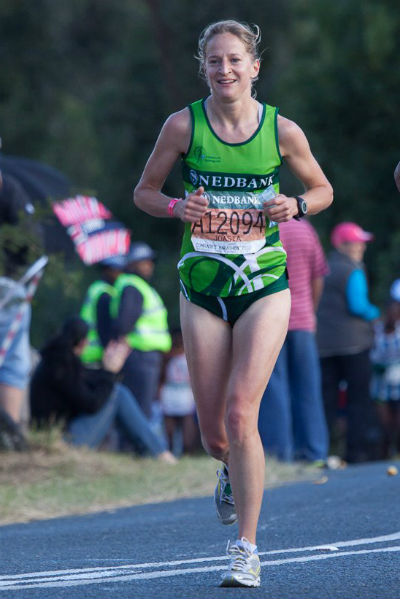 Zakrzewski  and Rush  shine in the heat at Comrades Ultra marathon
JO ZAKRZEWSKI repeated her fourth place position of 2012 in the prestigious Comrades ultra marathon in South Africa on Sunday. The 38 year old GP from Dumfries running her 3rd comrades race, finished in a time of 6 hours 53 min 28 sec, catching and passing the leading home  South African runner Charne Bosman in the closing 400metres. It reinforced her reputation as a world class ultra marathoner capable of preparing well, and then running well in the "races that matter"
Almost 20,000 runners had entered the event, the world's largest mass participation ultra distance race held over the 90km (app55 mile) course between the two cities of Durban and Piertermaritzberg. The race alternates each year this year being an "Up course"
Speaking from South Africa Zakrzewski, world 100km silver medallist from 2011, said,
"It was a really tough day at the office today…..like running into a blast furnace….really strong headwinds which are hard when you are running alone with no one to shelter behind! Temps well into the 30's so a shock for us Brits! We all really made use of the tables…….grabbing 3 baggies at  every table to pour water over your head.
Absolutely fantastic experience…..amazing support en route…..and I had a great seconder in my friend and host Dave. I've never been a sprinter but I think that was the sprint of my life! With 400m to go I spotted the 4th lady 150m in front of me so grabbed my rose (given to the top 10 finishers for the last 400m) and put the hammer down, overtaking her and finishing 50m ahead…..an 98th overall (yeay…..in the top 100)! Ill never forget the feelings in that sprint…..awesome!
Amazing support from runners in the race, seconders en route, and followers at home!"
Holly Rush from Team Bath, running her first serious ultra race, finished 7th in 7.04.20.  She had  Obviously prepared well  with a multi day stage race at altitude in Nepal, and a low key win the Compton 40 trail race in april just prior to a 2.44 in London, all part of her build up. It  auger's well for a future 100km should she decide she wants to keep taking ultras seriously
Russian Athletes filled the first three places with Elena Nurgalieva 6.27.08 claiming an astounding 8th victory from her twin sister Olesya 6.28.06 (two previous victories)  and  Irina Antropova 6.44.36 in third.
The mens race was won by Claude Moshiywa – the first South African in 21 years win the Comrades Marathon race from Durban to Pietermaritzburg in 5:32:13. Sweden's Jonas Buud came second while Mpesela Ntlosoeu from Lesotho came third.
Womens results here
http://results.comrades.com/Gender.aspx?RaceId=94&EventId=1&Gender=Female
Full men results here
http://results.comrades.com/default.aspx
Report from Adrian Stott