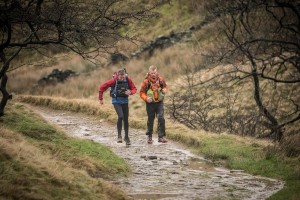 The MONTANE® Spine® Race 2016 started yesterday, 9th of January in Edale with the Spine Challenger and the MRT Challenge events setting off at 07:10. The 268 mile Spine Race itself began at 10:00 with 63 starters. The runners have 7 days to complete the distance which covers the length of the Pennine Way from Edale to Kirk Yetholm on the Scottish Borders.
The MONTANE® Spine® Challenger is a non-stop, 108 mile race between Edale and Hawes and has a 60 hour time limit while the MONTANE® Spine® MRT Challenge is the same as the Spine Challenger but is comprised of members of the Mountain Rescue teams that support the people who use the Pennine Way.
Currently conditions are relatively mild though last night saw 8 drops from the three events. The weather is ecpected to get colder as the race unfolds.
As I write, the leaders of the Spine Challenger are just making it into Hawes.
| | | |
| --- | --- | --- |
| Pos | Name | Last reported time |
| | Spine Race | |
| Women | | |
| 1 | Anna Buckingham | 14:56:03 |
| 2 | Sarah Fuller | 17:25:54 |
| 3 | Alzbeta Benn | 18:19:54 |
| | | |
| Men | | |
| 1 | Eugeni Rosello Sole | 20:10:34 |
| 2 | Eoin Keith | 20:10:36 |
| 3 | Pavel Paloncyt | 20:10:42 |
| | | |
| | | |
| --- | --- | --- |
| | Spine Challenger | |
| Women | | |
| 1 | Beth Pascall | 13:28 Finish |
| 2 | Gerry Dewhurst | 23:04:44 |
| 3 | Sarah Davies | 27:25:20 |
| | | |
| Men | | |
| 1 | Tom Hollins | 29:25 Finish |
| 2 | Matt Bennet | 13:28 Finish |
| 3 | Scott Morley | 26:36:02 |
| | | |
| | | |
| --- | --- | --- |
| | Spine MRT Challenger | |
| Women | | |
| 1 | Nicky Torr | 20:30:53 |
| | | |
| Men | | |
| 1 | Tim Budd | 21:01:55 |
| 2 | Joe Farnell | 26:28:29 |
| 3 | Duncan Buchanan | 27:48:45 |
| | | |