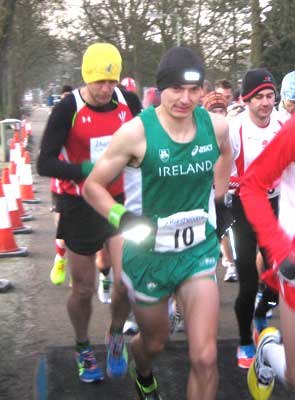 This years Self-Transcendence 100k /50k Races Perth incorporating the British And Scottish Athletic Championships 2013 and the annual Anglo-Celtic Plate home countries international was won by Irelands Daniel Doherty 'in 7:05:23. Second placed Craig Holgate was the first runner elegible for GB medals and so claimed the British 100 km title finishing in 7:12:55. The womens winner, for the fourth year in a row, was Wales' Emily Gelder finishing in 8:16:55.
The 50 km winner was Paul Fernandez in 03:04:07 and the ladies winner was Sue Harrison in 03:41:56.
The Anglo-Celtic team event was won by Scotland.
Race Director Adrian Tarit Stott has written a report posted on the Run & Become website and results are available as a PDF at the link below.
Pos
Name
Country
Time
Men
1
Daniel Doherty
IRE
07:05:23
2
Craig Holgate
ENG
07:12:55
3
Donnie Campbell
SCO
07:16:18
Women
1
Emily Gelder
WAL
08:16:55
2
Isobel Wykes
ENG
08:34:22
3
Antonia Johnson
NZL
08:44:56
Self-Transcendence 50 km Race
Pos
Name
Time
Men
1
Paul Fernandez
03:04:07
2
Andrew Murray
03:21:35
3
Robbie Britton
03:29:34
Women
1
Sue Harrison
03:41:56
2
Kate Jenkins
03:52:56
3
Hannah Devey
04:00:20
Full results are up on the race website: Self-Transcendence 100k /50k Races Perth Incorporating The British And Scottish Athletic Championships 2013

Full results are up on the race website: Self-Transcendence 100k /50k Races Perth Incorporating The Anglo-Celtic Plate – The British And Scottish Athletic Championships 2013