California Calling
Spring Training Diary: Heat and Hills
It's the end of March, and 3 months to go until the 'Big Dance' of the Western States 100 on 29th June. Training in a variety of conditions can really help your stamina and versatility as an athlete, whether preparing for a race in the UK or overseas, so rather than seeing the bitterly cold, blizzard conditions of the past few months as a disadvantage I have tried to see them as an opportunity to be exploited. To persevere in all conditions should help not hinder my training – ok perhaps not for the canyon section of the Western States but at least for adaptability in dealing with whatever the day throws at me.  Saying that, my body has now also had a not-so-gentle introduction to coping with heat, through two starter sessions in Napier University's heat training chamber. More on this later!
Training Plan
I'd built a base throughout the winter, including two early season ultras, but wrote a more tailored training plan in February, to increase 'quality' mileage and sharpen up for the Western States.  This ended up being an amalgamation of useful advice I'd read – Ian Sharman's blog (http://sharmanian.blogspot.co.uk/2012/07/how-to-train-forwestern-states-100.html) being a prime example – and learnings from training for the West Highland Way last year. The main features of my plan are the focused sessions I mentioned last time – downhill work, heat acclimatisation, and consistent higher mileage of  around 70 miles per week through regular back-to-back long weekend runs (1-2 per month).
In early March, for one of these higher mileage weekends, I ran the Endurance Life Northumberland Ultra, a 34 mile dash down the Northumberland Coastal Trail, a stunningly beautiful route weaving from Alnwick through dunes and paths up to Bamburgh Castle. In contrast to my early season races I had a wholly positive experience, feeling strong throughout, and finishing second female and third overall 5:31. Still, the mostly-flat route had few parallels to Western States, making getting straight back into more focused training more important.
Then came an unwelcome little obstacle to the plan – a weekend of norovirus-style sickness during which I could hardly move my sorry self around the flat let along hammer out hill repeats around Arthur's Seat and Calton Hill, and these had to take a back seat along with a long hilly group run I'd been looking forward to in the Pentland Hills. Oh well, let's hope what they say is true – plans are useless but the process of planning indispensible!
Hills
With this in mind, I got back into the hill/downhill training with gusto, with the main weekday sessions consisting of 2 x 1 hour runs per day for 2-3 week days, alternating between hill, tempo and easy work, followed by a longer 10-15 mile downhill-specific run the following day. These have gone well and I find breaking the mileage up into 2 x shorter sessions helps me recover better in between, as does making enough time for a decent 7-8 hours of sleep every night. I've sustained this weekly routine throughout March, combined with a 'peak' weekend of long runs up in the Cairngorms followed by an easier weekend of shorter, hillier sessions the weekend after. After running so many hills over the last month, I can honestly say I now prefer them to running on the flat, particularly tarmac.
Heat
Edinburgh's Napier University has a fantastic specialist climatic training chamber, in which temperature can be controlled from -50 to 50 degrees Celsius, and altitude controlled to replicate elevation of up to 5,000 metres. Athletes training for anything from the Marathon de Sables to an Arctic row have used it as part of their regular programme, and I have signed up to use it twice a month until June, then for four longer sessions during the few weeks directly before flying to California. It's a decent size, around 10 x 10 feet at a guess, so not small enough as to be claustrophobic, but to fit the maximum four people in to train would perhaps be one too many for me. Given the time involved of expert senior researchers at the university, who monitor those using the chamber, it is understandably costly, at £50 per hour, and has made sense for me to find training partners to share sessions.
Apparently the real physical 'heat adaptations' can only happen in the few weeks directly before the race, but there are two main benefits in heat training 3 months out: to reduce sweat rate and to adapt mentally to running in the heat. Although, for me, given studies have shown it necessary to train very regularly, i.e. every other day, in order to significantly reduce sweat rate and increase performance, the biggest benefit will be adapting mentally, just 'knowing' I am capable of running in such temperatures. There are other added pros as well, such as the opportunity to train myself to drink more water as I'll have to throughout the Western States, and the chance to test out hot weather running kit in training, without freezing half to death by doing this out in the Scottish hills.
My first two sessions have been worth every penny. Two friends joined me for the first and we alternated between a couple of stationary road bikes and the only treadmill. The fantastic researcher Lesley started us off at 30 degrees and kept monitoring us throughout. In one hour, I learnt four things:
Going off too fast at 12km per hour can have uncomfortable consequences: start slow and pacing is key! This will be my golden rule on race day.
Cycling is painful if you haven't been on a bike in over a year.
Three people in a small chamber makes for an experiment in heat AND humidity.
I have the capacity to sweat a lot at this temperature, despite hardly sweating on regular outdoor runs.
Session two was an improvement, even with the planned temperature increase to 32 degrees. Being on my own for this one and having learnt the above, I started on the treadmill slow, at 10.5 km per hour, and found it considerably easier to maintain a level pace throughout the hour without feeling too uncomfortable. It was a novelty to adapt to sweating that much, but other than that it felt do-able. When I stepped outside though, I instantly felt faint, and later learned that this was due to stopping so suddenly, which in turn ended the contractions and fast blood flow in my muscles, causing a slight lack of oxygen to the brain which can bring on light headedness. It passed soon enough and I just felt a bit more tired for the evening and next morning.
Lesley pointed out to me that the main thing to remember with this type of training – and others – is that the benefit and improvement happens during recovery, so if I don't let myself fully recover the next day my body will not learn to recover faster from heat training, some of the stress will accumulate into other sessions, and the full benefit will be lost. A lot of lessons have been learnt in March, so bring on April! Happy spring training to all until then…
Caroline McKay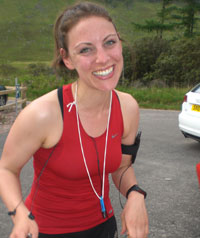 Caroline McKay is an ultrarunner living in Scotand and working as a Development Manager at the Royal Botanic Garden, Edinburgh. Having run many ultras, Caroline drew a ticket in the lottery for the 2013 Western States 100 mile Endurance Run in California in the USA and will be sharing her preparations for the event with a short series of articles for Ultrarunning World under the banner California Calling for which we are very grateful.
Catch up with Caroline on her blog, Chapters in Running and on her Facebook page
Related article:
California Calling: The Western States 100
The UltrAspire Surge Hydration Vest Review by Caroline McKay