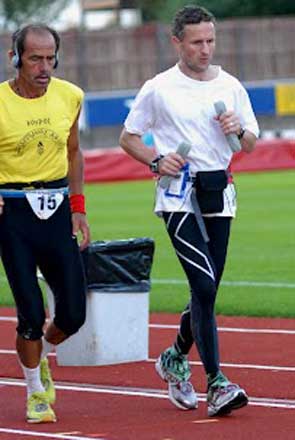 Sichel takes 5th in Swedish 48 Hour ultra marathon
 Orkney-based ultra marathon runner, William Sichel (58) took 5th place overall (2nd in age-group) at the Skovde UltraFestival 48 hour track race which took place from Friday August 24th until Sunday 26th.
 Despite suffering from a stomach upset in the middle of the first day William covered 95.2 miles in the first 24 hours and then continued strongly for the second 24 hour period running another 93.5 miles for a total of 188.50 miles in the 48 hours.
 "That was the 3rd best, second day distance of all the competitors so I was pleased with that and it demonstrated my strength and endurance.  I finished strongly and on a high which is always encouraging.  The problems in the first day reduced my distance by those extra miles I needed to get more records, but that is why records are so hard to come by – a small problem and the chance has gone."
 The weather was a real mixed bag for the runners competing in any of six events from 1 hour up to the 48 hours duration.  The hottest day was Saturday when a warm and humid 23ºC was experienced.
 The race was won by ultra running legend Yiannis Kouros from Greece who covered 231 miles.
 "The 48 hour event is at the 'short' end of my spectrum of events these days – I'm much better at 6 Day races and longer.  However, I still feel I can improve on my current 48 hours records and will try again."
***
 William is a member of the Orkney Athletic Club and is currently engaged in Project 60@60 in which he is attempting to have set 60 ultra distance records, at World, British and Scottish level, including age-groups, before his 60th birthday on October 1st 2013.
 Currently William has set 58 records, including 6 World Age-Group records.
 William is grateful to sponsors Loganair and Myprotein and for a grant from the Sanday Community Council administered, Scottish & Southern Spurness Wind Farm Fund.
Photos: William Sichel with event winner Yiannis Kouros (Greece)  by kind permission Alan Young
Resources
Facebook: http://www.facebook.com/profile.php?id=1012282677
Twitter: http://twitter.com/#!/williamsichel
youtube: http://www.youtube.com/user/williamsichel
Making contact:
For all media and sponsorship enquiries please contact Claire MacDonald at
Red Sky Management: claire@redskymanagement.co.uk Tel: 0845 200 7820