The UltrAspire Surge Hydration Vest
Review by Caroline McKay.
I've started to use UltrAspire products for the first time this year in training and racing and lately I have been running with their Surge hydration vest. This is a complete first for me, as having started out in ultra running using racing belts and bottles, I have been reluctant to change systems and give hydration packs a chance. Call me a traditionalist but I have always enjoyed the no-frills side of running, particularly after getting into longer distance running from a spell competing in duathlon, which I became slightly disillusioned with due to the sometimes-materialistic and technical side to the sport.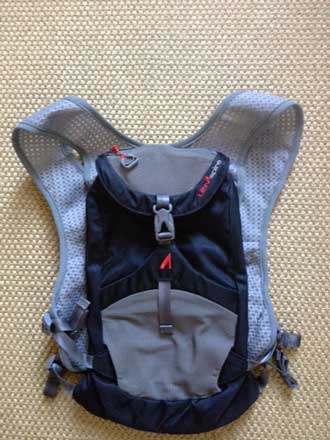 UltrAspire is a relatively new company, the brainchild of ultra running veteran Bryce Thatcher, who first developed the concept of hydration packs, and also founded Ultimate Direction in the 1980's before moving to Nathan and setting up UltrAspire. The Surge was one of the first products launched in the UltrAspire range in 2011 in the US, so the UK and Europe have only recently been catching up in terms of product exposure, marketing and distribution.
So far, I have taken the Surge on a 30 mile training run on the West Highland Way, the Northumbria Ultra and a few day-long hill walks – admittedly during the hill walks my boyfriend was carrying a much larger pack!
Specification
Weight: A lightweight racing vest, weighing 304 grams.
Main Hydration Feature: A 2 litre bladder or 'Hydrapak', encased in a 'quick access hydration compartment' within the core back pocket.
Cost: £71.99 through the Ultra Marathon Running Store (www.ultramarathonrunningstore.com) and $115 in the US marketplace.
Design
The Surge seems to have been designed as a functional pack for ultra training and racing, for runners carrying food, water and maybe a little more over medium to longer distances. I found it to be really lightweight even when carrying nearly a full bladder and in fact it is lighter than a lot of hydration vests which store a lot less. Its key features are:
Back
• The main backpack has one large compartment in the centre for storing the bladder, as well as generous space around the bladder (even when full) for extra storage of kit and nutrition, and a 'stash' sleeve on the outside of the main pocket, secured by an easy-open clasp. These spaces could easily hold more than just the basic fuel and water and on my long West Highland Way training run I carried a windproof jacket, gloves, hat, a full bladder, a sandwich and couple of bars.
• There is also a zippered pocket on the top of the backpack area, above the stash section, which is handy for keeping small pieces of kit needed later in a run or race, e.g. a head torch, spare nutrition, phone or camera.
Front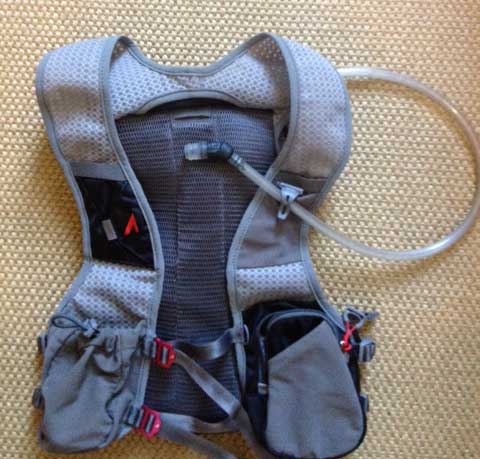 • The Surge has two pockets on each of the front straps, the two lower being decent-sized storage pockets positioned in highly practical and accessible areas, and the two higher being small additional pockets for storing little things like electrolyte tabs.
• When you are wearing the vest, on the lower right is a sizeable stretch mesh pocket, designed for gels and bars needing to be readily available. Above this there is the smaller 'Magnon Electrolyte Pocket' which closes via a magnet system. I used the main mesh pocket for gels and a Trek bar during the Northumbria Ultra and it was seamlessly easy to grab the nutrition without losing too much speed and faffing around.
• On the lower right is another mesh pocket (again, easy for storage of one gel or a few sweets) which is positioned over a zippered inner pocket. This zip pocket can store items needing securing or protecting from the elements and in here I kept my iPhone and iShuffle as well as money – in case the ultra went badly wrong and bus fare was needed! The zipper is a decent size and was easy enough to locate and manipulate, even in the latter stages of the race.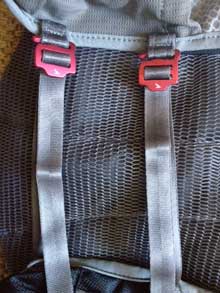 • Across the middle of the pack, there are two belt fastenings that secure horizontally across each of the front straps, with a hook and loop connection (see below right image). These look very lightweight but are positioned in a perfect position for the female runner, under the chest and across the waist. The straps kept in position for the entire 34 miles of the race without me having to loosen or tighten, and at no point was there any pressure on the stomach area as sometimes happens with race belts.
• The drinking tube fits around a clip on the upper left strap, and again this didn't seem to bother me much during the race – when it was hanging too far down I just tucked it into the straps below and it held tight.
And I'm truly sorry for being a girl but I can't resist but add – I love the colour schemes, which I feel are a welcome departure from the stereotypical colour schemes manufactured in ladies' running ranges – no luminous pink or orange monstrosities here. But I do quite like the red…
Performance & Verdict
I think I may be a convert to the hydration pack over a bottle system. I have found this vest to be true to its goals in both form and function – it performs all it intends to in terms of providing a really comfy fit and easy-access, practical ways to carry a variety of nutrition, small kit items and water.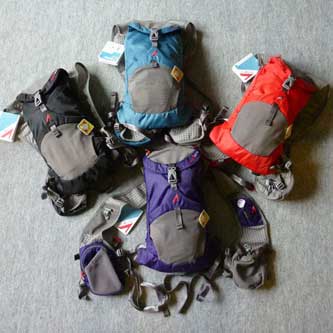 Yes, re-filling a bladder is more time consuming at aid stations and check points, particularly if you are racing somewhere warm where it needs topped up all the more regularly (the UK I hear you say?). But the design of this bladder makes it as simple as possible, and once I practiced a bit with the opening and replacing the bladder back into its compartment, it was easier.
For a former race belt advocate the Surge has really helped me discover the difference that spreading the weight load on your body can have, i.e. across the back and shoulders rather than stomach. Especially towards the end of a race, race belts can bring on mild gastro problems or cramps, which can be completely avoided with a vest like this.
The most important benefit for me was the 'barely-there' feeling of freedom that the vest gave me, that it was moulded into my form and the weight was being distributed in what feels like a more natural, organic way than with a heavy race belt. I can't speak for everyone but from my experience the Surge will suit many female ultra runners who have similar needs to me equally well. Definitely worth the investment, especially for the red!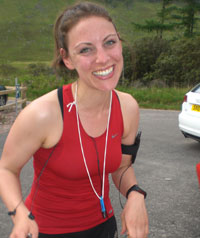 Caroline McKay is an ultrarunner living in Scotand and working as a Development Manager at the Royal Botanic Garden, Edinburgh. Having run many ultras, Caroline drew a ticket in the lottery for the 2013 Western States 100 mile Endurance Run in California in the USA and will be sharing her preparations for the event with a short series of articles for Ultrarunning World and this UltrAspire Surge Hydration Vest Review for which we are very grateful.
Catch up with Caroline on her blog, Chapters in Running and on her Facebook page
Related articles:
California Calling: The Western States 100
California Calling: Spring Training Diary – Heat and Hills