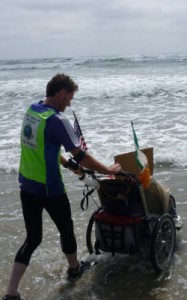 After setting off from Dublin in October 2010, Irishman and journey runner extraordinaire Tony Mangan has crossed the North American Continent from St. Johns in New Foundland reaching Ocean Beach in California on May 21st.
The world runner has now covered some 5,000 miles and is taking a 4 week break before the next leg of the journey which will see him running through:
Mexico,
Guatemala,
El Salvador,
Honduras,
Nicaragua,
Costa Rica,
Panama,
Colombia,
Ecuador,
Peru,
Bolivia,
Argentina, before completing this leg in Chile. Tony will then travel to New Zealand.

Check out the story so far on the Worldjog blog