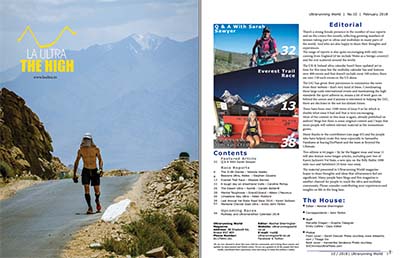 Ultrarunning World Issue 10 is published today and is available free via subscription only.
The latest edition features:
Race reports
Beacons Ultra – Stephen Cousins
Everest Trail Race – Elisabet Barnes
A tough day on dreamland trails – Caroline Mckay
The Desert Ultra – Carolin Botterill
Mental Toughness G2G – Alison L'heureux
Limestone Way Ultra – Helen Pickford
LAVS Expect the Unexpected – Karen Jackson
Montane Cheviot Goat – John Parkin
There's also a Q & A with Sarah Sawyer, Yolanda Holder, the power walking Diva is the first guest in a new column, the 3100 Diaries and an updated Multiday calendar.
Subscribe in the form below to get free access to Ultrarunning World 10 and future issues.