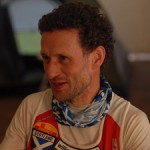 William Sichel, one of the UK's top ultrarunners, has a 70 km lead over second placed Christos Kanellos in the Athens 7 day race at the 105 hour point. William has covered 578 km after almost 4 and a half days at the venue in Athens, Greece.
Experienced ultrarunner Elvira Janosi is the only lady in the race.
The event began concurrently with a 24 hour race and on the 7th there's a 72 hour race starting and on the 8th, a 48 hour begins. All races finish together on Saturday11th April.
Checkout the details at the Athens International Ultramarathon festival